Article written by Dawn McLachlan for Huntly Development Trust
The No30 Time Capsule is now safely tucked away beneath the floor and will probably not be seen again in my lifetime. When Huntly Development Trust asked me if I would collect and curate the contents of the time capsule, I relished the challenge. It was an opportunity to count my blessings by looking at all the independent businesses and activities going on in the town, and there was no shortage of them!
Collecting items for a time capsule is a fascinating process. My career in libraries began in a local history archive back in the late 80s and curating items then was a far simpler process. When I first looked at the kind of items to place in a local history archive, we were living in a time of printed items. Every shop, activity, service, and community occasion generated something in print. There were flyers, posters, brochures, and catalogues all easily available. These were easy to catalogue and file and adding in photographs rounded everything off.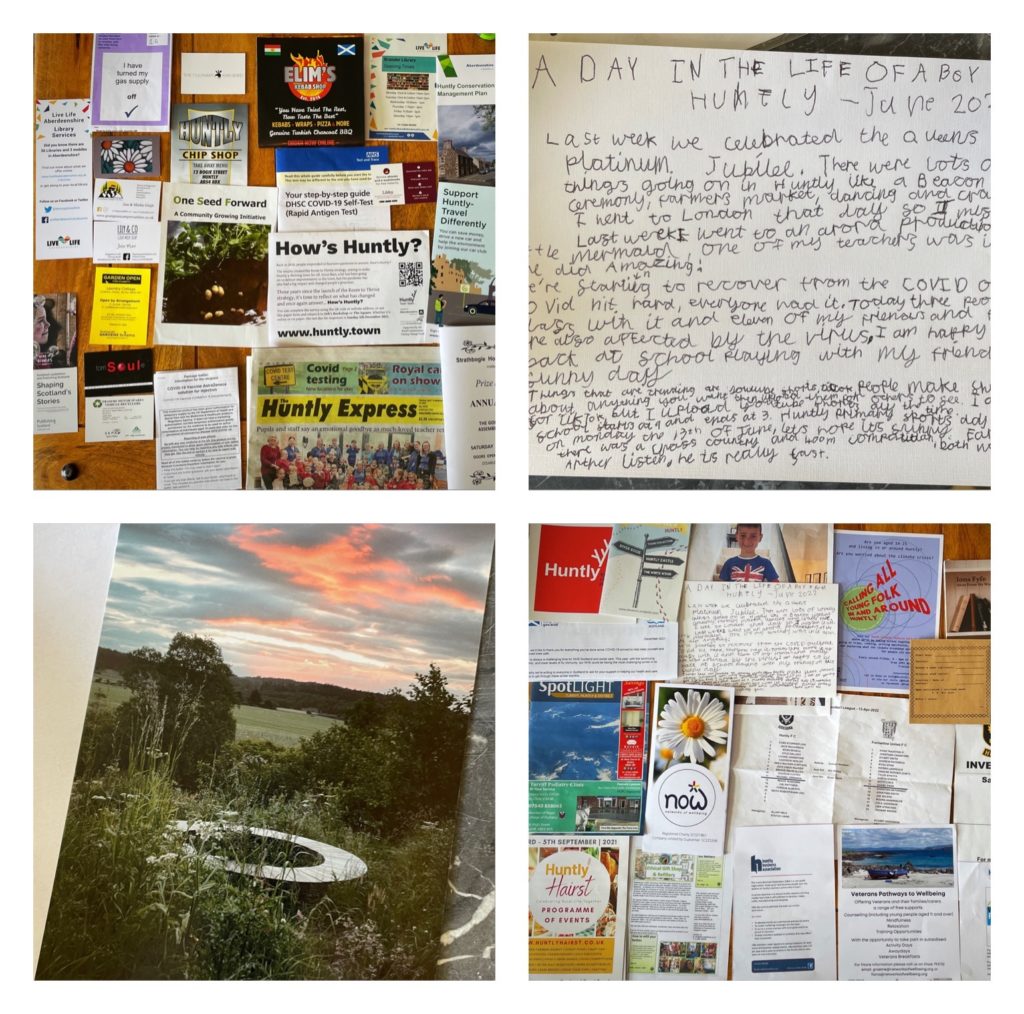 Whizz forward 30+ years and we are in the digital age where printing is expensive, and we are all doing our bit to save paper. Most of us no longer have our photos printed and catalogues and brochures are all online. This does make the process of curating a time capsule a bit trickier, but not impossible.
A time capsule is very different to a local history archive because I was not preserving general history but instead recording a moment of our social history. I tried to think what I would like to discover in a time capsule and what I would find interesting in the future. As our town has quite a large and active digital presence there were lots of things that I did not need to include. There was no point in putting in things about the general or political scene in the Shire or Scotland as a whole and I wanted to keep the focus very much on Huntly. There was also no point in putting in masses of photographs because the digital images of Huntly are well archived already. Instead, I chose to concentrate on things that are unique to our wonderful wee toon.
It was important to me to try and capture a sense of the town in the last few years. There is no doubt that we have come through the most challenging of times and I wanted the capsule contents to show a little of that. Huntly is an amazingly resilient place, and I felt very lucky to live here through times that were devastating to many communities. To reflect that I wanted to not only have things from the dozens of local businesses, but also items giving a taste of the community groups who are improving the quality of our life here. Obviously it was important to have things that showed some of our sadness too; the businesses who didn't make it through the pandemic, a face mask, a covid test, the letter we were sent for our vaccinations, the sign we hung on our doors when the gas went off, the letter we were sent when our water went off… all of these things are part of the last few years. I hope that the contents of the capsule will give future Huntly folk a real taste of what life was like here in the early 2020s.
It took a couple of months to gather everything together and I know that there were still things I would have liked to include. Inside the future folk of Huntly will find leaflets and flyers from events going on around the town as well as takeaway menus, business cards, leaflets about local information and services, some advertising pamphlets, the programme from the Strathbogie Horticultural Society Annual Show, and the Huntly Hairst leaflet. As well as this there are some more personal items including a player list from Huntly FC and a short note on a beautiful photograph from local photographer, Dave Simpson, and the beautiful music and voice of Iona Fyfe. There is so much going on in Huntly that it would need a chest instead of a wee time capsule to hold them all! It was a squeeze getting everything into the steel tube, but eventually the bolts were tightened and into the ground it went. A small group of folk donned hard hats and had a sneak peek inside No30 as local celeb, Pat Scott, did the honours and popped the capsule into the floor.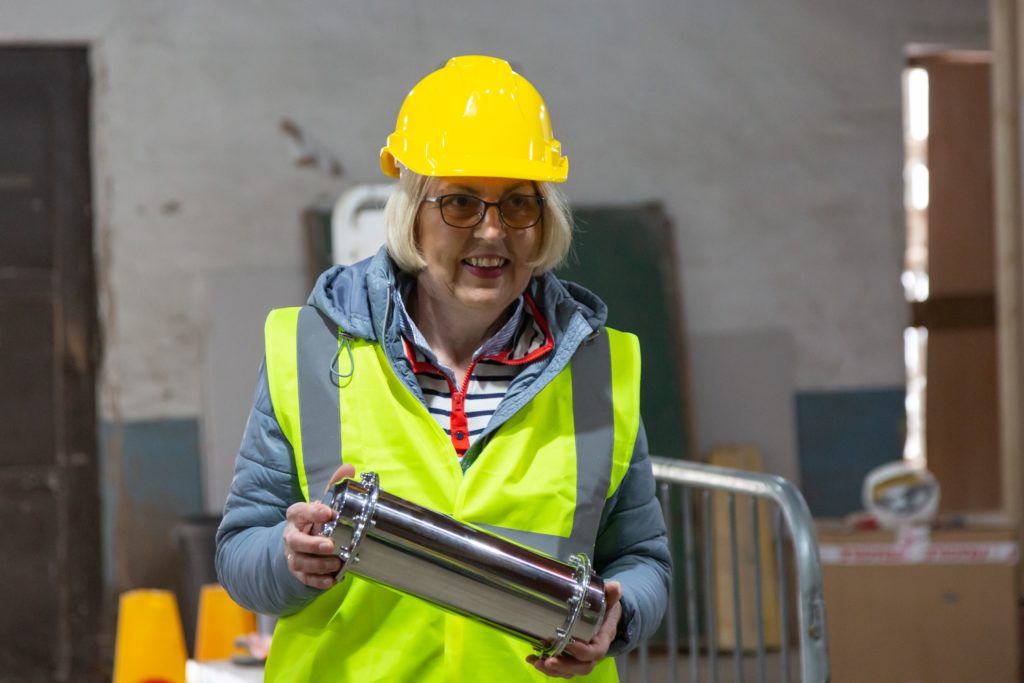 Pat said a few words, as did our own Carolyn Powell, and copies of both speeches were also in the capsule. Pat made a very good point in asking that the capsule be opened during the lifetime of the young folk who have been involved in many ways in No30, and who will be the users of the building for years long after the restoration has been taken for granted.
When the building is open and in use there will be a plaque to remind everyone of the time capsule nestling 1.5metres down beneath the floor. When you walk over it, I hope you remember all the things we have been through in the last few years and feel a sense of pride about how we came through it together. I hope you will enjoy the fully restored No30 and that it will be a reminder of the history of Huntly and an important part in writing its future. I think that my favourite item in the capsule is a letter from a local schoolboy. Joshua McNeill has written a letter to the future in the form of a Day in the Life of a Huntly Boy and I hope that in the years to come when he and his friends walk over the capsule they have cause to think back to Huntly in 2022, and to look forward to life in the future.